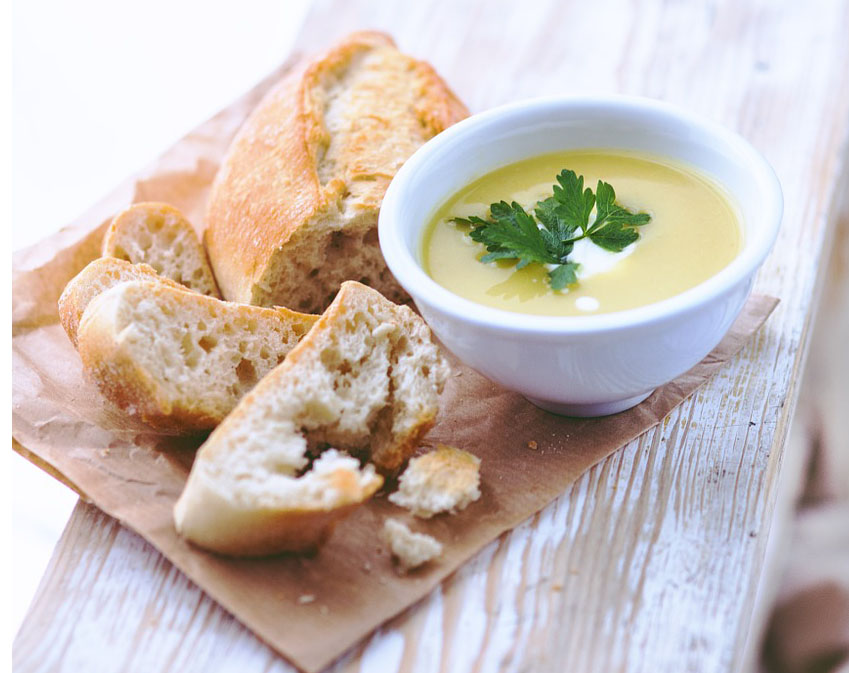 Vichyssoise – otherwise known as leek and potato soup! The autumn evenings are perfect for soup and this particular one is an all time favourite in this house. Home-made soup is cheap, easy and really tasty!
It is sometimes called vichyssoise here in France but to the best of my knowledge that refers to potato and leek soup served chilled – I've never tried it cold and am not about to 🙂
Some other soups on MyFrenchTable : Courgette Soup ; Mushroom Velouté
Ingredients :
300g leeks
600g potatoes
1.5 litres of chicken stock
30g butter
10cl crème fraîche (optional)
Method :
Peel and chop the potatoes and wash and chop leeks
Melt the butter in saucepan and add chopped leeks and cook over a medium heat until the soften
Add the chopped potato, mix well and continue cooking for another 5 minutes
Add the stock and pepper
Bring to the boil and then lower the heat and leave to simmer for about 30 minutes
Strain the vegetables but keep the stock
Purée the vegetables and put the back in the saucepan with the crème fraîche (if using) and a ladle full of the stock
Put back over a gentle heat and mix well. Slowly add the stock back in mixing all the time until you get the consistency you like (as thick or as liquid depending on your preference)
If you are going to follow the french tradition of a vichyssoise once the soup has cooled down place in the fridge for at least 2 hours before serving or just enjoy in hot!
*Of course you can simply mix the stock and veg together without going through the process of straining and adding the stock back in. Doing it the way outlined above just means that you only add in as much stock as you need to get the consistency required.