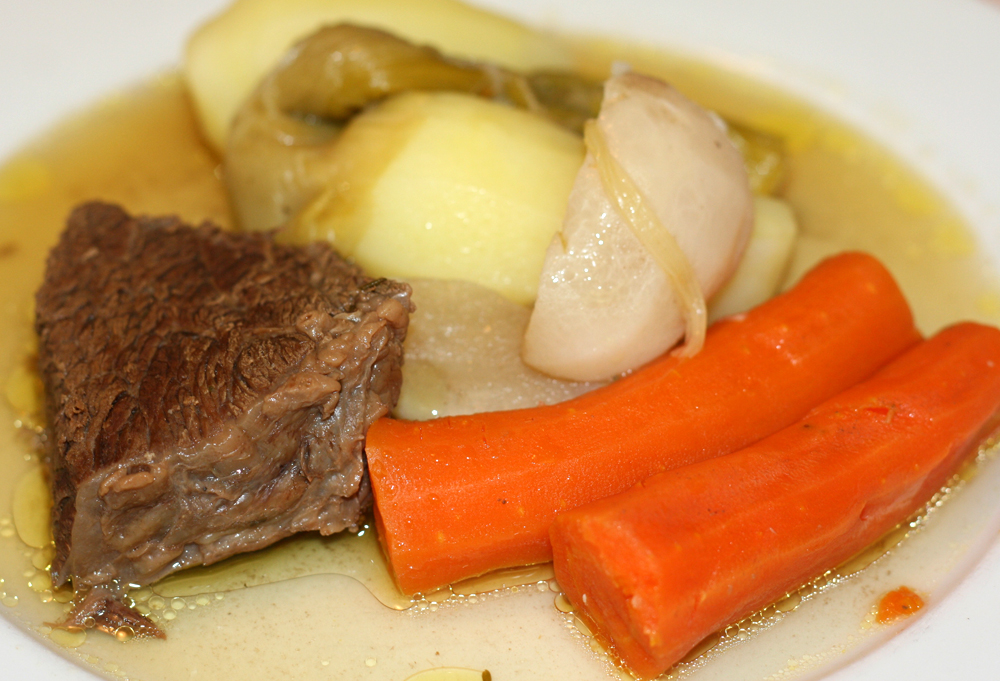 A pot-au-feu is a french beef stew, which uses mostly inexpensive cuts of beef that need to be cooked for quite a long time in a bouillon seasoned with root vegetables and a bouquet garni.
According to the french chef Raymond Blanc, pot-au-feu is "the quintessence of French family cuisine, it is the most celebrated dish in France. It honours the tables of the rich and poor alike."
It is a perfect dish for a cold January day and even when the meat and vegetables are gone you can get another meal out of it by using the broth as a soup. In France this broth is usually served with special soup pasta called cheveux d'ange (or angel hair in english) added to it.
I make this using my pressure cooker as do most french people. So I am estimating that it will take 2 to 3 hours in a regular saucepan.  If using a pressure cooker, you'll need to cook the dish at first for 30 minutes and then remove the carrots, leeks and turnips before continuing to cook the meat and seasoning for another 45 minutes.
Ingredients :
1.2kg stewing beef (I usually use cheek and tail)
2 marrow bones (optional!)
1 onion studded with 3 cloves
3 cloves of garlic
3 leeks
1 kilo carrots
3-4 small turnips
I branch of celery
Bouquet Garni
Salt and Pepper
Potatoes to serve
Method :
Peel and wash the leeks, carrots and slice in half
Peel and wash turnips and chop in large chunks
Fill a large saucepan with 2 litres of water and add the clove studded onion, the carrots, the leeks, the turnips, the garlic cloves, the celery branch and the bouquet garni.
Season with salt and pepper and bring to the boil, then add the meat
Cook over a gentle heat for 10 minutes, removing  the foam the comes to the surface (this is called "écumer" in french!)
Put the lid on the saucepan and cook for approximately 3 hours until the meat is really well cooked
Wash and peel potatoes and cook them separately in a saucepan of salted water
When your pot-au-feu is ready you can serve the broth as a starter or enjoy it the following day – its a meal in itself, really tasty and full of goodness 🙂
Serve with potatoes, gherkins and strong mustard
If you are having the marrow bones serve with toasted bread