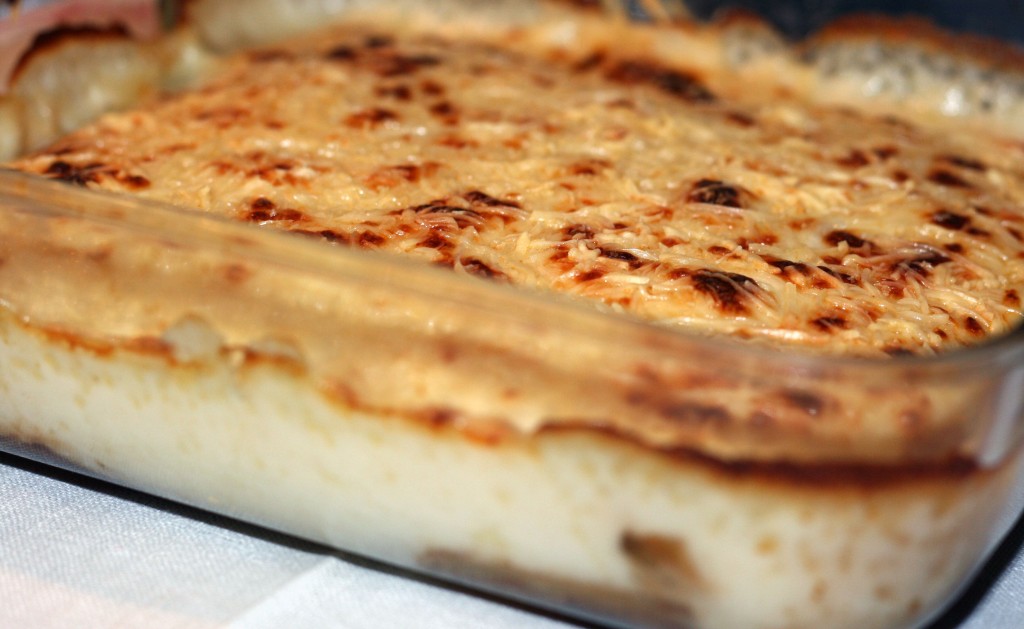 I was trying to think of a suitable name in english for this dish but couldn't so I just stuck to the french one. Endives are mostly called chicory in english but are also called endives too.  A gratin means when a dish is topped with a golden crust, often using cheese or breadcrumbs by baking or cooking in the oven with an overhead grill.
And guess what? Endives are in season so are really plentiful at the moment – and are great in a winter salad too!
Ingredients :
6 endives
6 slices good quality ham
100g grated gruyère cheese (or any other hard cheese you have)
For the béchamel :
90g butter
45g flour
500ml milk
Salt, Pepper and Nutmeg
Method :
Chop the ends off the endives and remove any discoloured leaves
Steam them or boil them until well cooked
Leave the endives to drain in a colander (to try and remove some of the excess water contained in the endives)
Melt the butter in a saucepan
Add the flour and mix well with a whisk
Season with salt, pepper and a pinch of nutmeg
Slowly pour in the milk whisking vigorously all the time to avoid lumps and to get a nice smooth texture for your sauce
Once all the milk is added continue to cook over a medium heat mixing all the time for another 5 minutes
Butter an oven dish and place each endive wrapped in a slice of ham on the bottom and pour over the béchamel sauce
Top with grated cheese
Bake in a pre-heated oven for 25 minutes at 180°C and the pop under the grill for another 5 minutes to get it nice and crispy on top
*  If you find the endives too hard even after all that cooking, you can also cut them in half lengthways, lay them on the bottom of the dish and simply cover them with the ham slices.