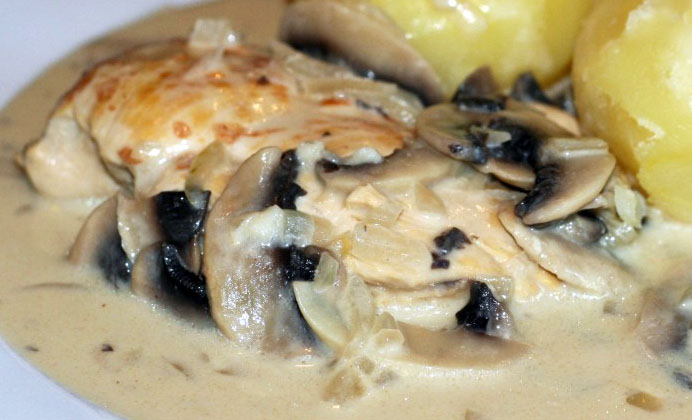 This recipe is called Poulet Forestier in french which translates to "forest chicken" in english. The word forestier in the name comes from the sauce which is called une sauce forestière because of the mushrooms in the recipe and is a perfect autumn dish. Typically a forestier sauce does not have mustard in it but I find it gives a little something special to the sauce! 🙂
The below serves my family (2 adults, 3 children), I would say it serves 4 adults perfectly.
Ingredients :
4 chicken fillets
40g butter
1 tablespoon flour
20cl dry white wine
1 small onion
2 cloves of garlic
15cl chicken stock
250g mushrooms
Salt & pepper
1 tablespoon of mustard
20cl of creme fraîche or liquid cream
Method :
Heat the butter in a large pan and brown the chicken fillets
Sprinkle in the flour and mix well, then pour in the white wine and continue mixing
Add the chopped onion, the garlic, the chicken stock and the mushrooms
Season with salt and pepper and then cover the pan and leave it to simmer for about 30 minutes
After 30 minutes remove the chicken fillets from the pan.
Add the mustard and cream (or crème fraîche) to the pan and mix well so that you get a nice creamy sauce
Put the chicken back in the pan and serve hot with potatoes or rice.