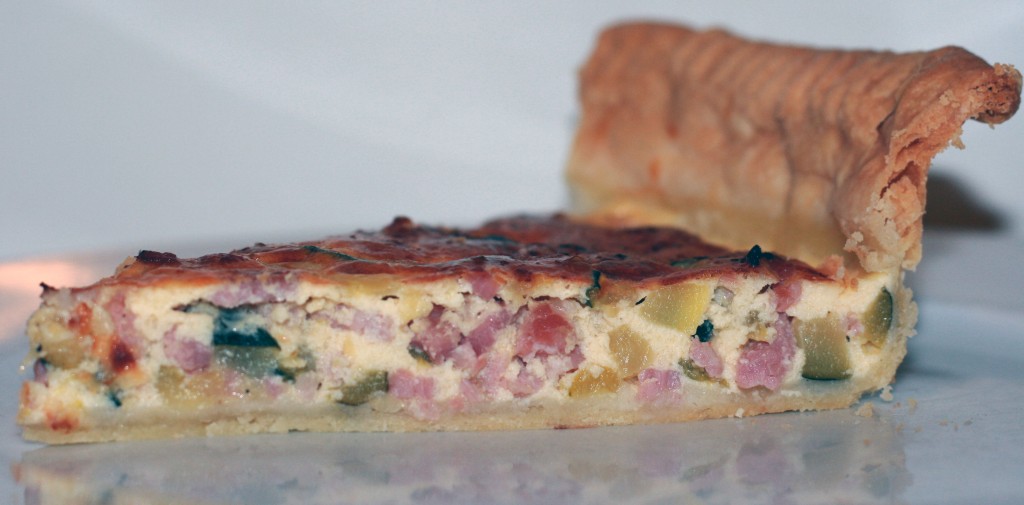 Courgette (or 'zucchini' for some of you!) tart – like a quiche with extra veg 🙂
Ingredients :
1 short-crust pastry (see here for recipe)
1 small onion
200g lardons (smoked if possible)
2/3 courgettes
20cl crême fraîche or cream
3 eggs
Salt & Pepper
Method :
Pre-heat the oven to 180°C
Wash and finely chop the onion and the courgettes (grating works well too if you prefer)
Gently fry the lardons in a pan and then add the onion and courgettes – fry until the excess water from the courgettes evaporates
Add salt (not too much because the lardons will be salty) and pepper
In a bowl beat the eggs with the crême fraîche (or cream if using)
Roll out you pastry and press it into a quiche dish, pricking the base with a fork
Spoon the courgette, onions and lardons over the base of the tart
Pour over  the egg and cream/crême fraîche mixture
Bake in oven for 30 minutes
Serve warm with a tossed salad
*  You can always add cheese too, sprinkling on top of the tart before it goes into the oven.  Or to have a vegetarian tart you could replace the lardons with a hard cheese – cheddar works well. Leave out the lardons, mix approx 125g of grated cheese into the cream and egg mixture and continue as above.